Maunu Educare
A safe and stimulating programme which caters for the children of Maunu  School.
The service operates out of the Maunu School Hall from 3:00pm to 5:30pm Monday to Friday during school term time.
To secure your child(ren)'s enrolment, an annual registration fee of $10+GST must be paid in advance.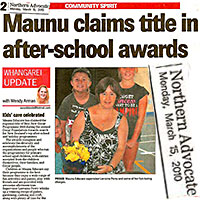 The charge will be $5+GST per child per hour. A discount of 10% is available when a second/third child attend. A minimum of one hour per child applies. Special conditions apply when a family requires WINZ assistance.
All children are to be collected no later than 5:30pm each day. A penalty fee of $5+GST per child for every five minutes after 5:30pm may be charged.
The supervisor is to be advised if someone other than the appointed person is to collect the child(ren). No child(ren) will be released to an unauthorised person.
The service offered by Maunu Educare Limited is completely separate from the Maunu  School, although it has been established to benefit the families attending Maunu school.
For further information, please contact Christin on 09 946 019 or 0274 821 331.
Or head over to        https://schoolholidayprogrammes.co.nz/    or contact
info@schoolholidayprogrammes.co.nz