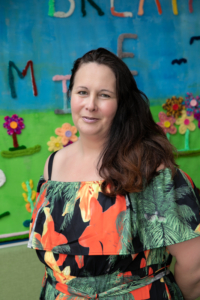 Ko Ingarangi te whakapapa ranga mai
Ko Beacon Hill tōku Maunga
Ko River Soar tōku awa
Nō Quorndon, Leicestershire, England ahau
Ko Whau Valley, Whāngarei, tōku kāinga
Ko Suzanne Ridley tōku whaea
Ko Bernard Ridley tōku matua
Ko Turton tōku whānau
Ko Morgan rāua ko Caitlyn āku tamāhine, ko Cameron tāku tama.
Ko Mark tāku hoa tāne
Ko Claire tāku ignoa 
Ko au tumuaki te kura o Maunu School
Tēnā koutou, tēnā koutou, tēnā koutou katoa
It is a privilege and honour to be the tumuaki of Maunu School.  I have been at Maunu School for the last ten years, first as a Deputy Principal and then as Principal from 2023.
We value the strong relationships we have between our school and wider community. We welcome whanau to work closely alongside us to provide opportunities for all our tamariki. Having my own children in the school has given me further insight into the school through the eyes of a parent and student. The annual Country Fair is a highlight of the school calendar, it is a time when our whole school community comes together to celebrate the importance of this partnership applying our whakawhanaungatanga values.
We are proud of our kura, we have attractive and spacious grounds, set in a semi-rural environment. The school is very well resourced and employs high quality and dedicated staff in all areas – teaching, administration, grounds and support.
Our vision, Tukuna kia rere, the freedom to soar, really describes our desired 'Year Six Leaver Profile' for each student who transitions from Maunu School. Our students are encouraged to accept responsibility and develop knowledge, skills and attitudes which lead to lifelong learning.
Maunu has high expectations of every student in all areas of school life and advances a culture of excellence, inclusion and service in all endeavours.
We strive to provide a wide range of challenges and experiences for all our students, aimed at developing active citizens who are prepared for their future and have a sense of service and community.
Our Five Feather Values underpin all that we do and give our students every opportunity to be their best. They will leave us as confident, connected and capable students ready to soar in whichever pathway they choose.
Mā ngā huruhuru ka rere te manu … It is the feathers that enable the bird to fly
Nau mai haere mai and welcome to our Maunu School whānau community.
Claire Turton
Principal