FREQUENTLY ASKED QUESTIONS ABOUT COVID-19 FOR THE MAUNU COMMUNITY
Where does Maunu School acquire information about Covid 19 guidelines?
Information is referenced from the New Zealand Ministry of Health.
What symptoms of Covid-19 do I need to monitor for?
A new or worsening cough
Fever (at least 38 degrees celsius)
Sore throat
Shortness of breath
Runny nose and sneezing
Temporary loss of smell or altered sense of taste
Less common symptoms may include diarrhoea, headache, muscle aches, nausea, vomiting or confusion/irritability.
What do I do if I have symptoms and need to get a Covid-19 test?
If you have cold or flu-like symptoms and are concerned about your risk of Covid-19 please ring Healthline (0800 358 5453) first. They will tell you if you need to be tested and what to do next.
To find out where / how you can test:
https://www.healthpoint.co.nz/covid-19/northland/whangarei/
If my child is still showing cold and flu symptoms, but has a negative Covid test, when can they return to school?
Our advice is to stay off school/work whilst they are unwell and all symptoms have resolved.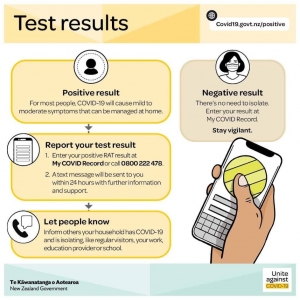 Will Maunu School be offering Covid-19 vaccinations to the Maunu School community?
No. All Covid-19 vaccinations are done at specific vaccination centres.
Everyone in New Zealand aged 12 years and over is now eligible to book their free Covid-19 vaccination now. Book online with Book My Vaccine https://bookmyvaccine.covid19.health.nz/
Will Maunu School be offering Covid-19 tests onsite to members of the Maunu School community?
No. All Covid-19 RAT tests can be collected from Community based Testing Centres and some General Practices.
What websites can I look at for advice on the Covid-19 vaccine?
https://covid.immune.org.nz/about/about-covid-19-vaccines
Who needs to wear a mask at school?
While mask wearing is not mandatory anymore, we encourage anyone who wants to wear a mask to do so.
Parents and Visitors to the school are asked to wear masks both indoors and outdoors until further notice.
If you are helping/volunteering at the school, the staff member will inform you of when or if you will need to wear a mask.
If my child has tested positive for COVID19, what do I do?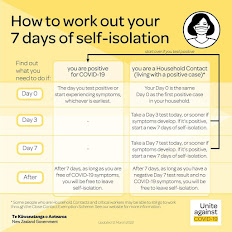 If you hear during school hours, please contact the school straight away on 09 4388060 with evidence of your positive test result.
Please notify us and let us know when your child first displayed symptoms or received their positive test result. This helps the school calculate Day O and when your child can return to school.
office@maunu.school.nz
094388060
If my child is a Household Contact, when can they return to school?
Confirmed Case:
If your child has tested positive for Covid 19 …
If your child has tested positive for Covid-19 you must self isolate for

7 Days.

Start counting your 7 days from the day that your symptoms started or the day you got tested if you did not have any early symptoms. This is your Day 0.

After 7 days, and as long as you are free of COVID-19 symptoms, you will be free to leave isolation. 

You can return to school/work/etc on Day 8.

You do not need to be tested.

The others in your household (household contacts) will need to return negative tests on the relevant days before they can leave isolation.

Recovered cases will

no longer

need to isolate again if they become a household contact

within 29 days of having the virus

.
For the next 10 days after a household completes seven days isolation, evidence shows that due to their exposure to COVID-19 they are less likely to catch or transmit the virus. This means:
-if someone else in the household tests positive within those 10 days, the whole household will not have to re-isolate, only the positive case
-if someone else in the household tests positive and it has been more than 10 days since the household completed isolation, household contacts should re-isolate along with the new case for seven days.
-Any person who has had COVID-19 within the last 29 days will not need to isolate as a household contact unless they become symptomatic and test positive again.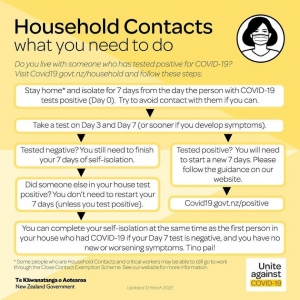 What learning can my child do whilst isolating at home? 
For those who are self isolating, the teachers will send home a home learning plan, this is designed as self directed learning. The teacher will not be checking work or interacting with your child on a regular basis. We realise that each child will respond differently to Covid, and families will have their own ways of coping. Home Learning is an option for you, but of course, the first task is for everyone to get well. 
Junior Syndicate – Home Learning Support – 2022
Middle Syndicate – Home Learning Support – 2022
Senior Syndicate – Home Learning Plan – 2022
If there are any other questions that are not answered here about returning to work or school please contact the office during school hours 094388060 or email the office@maunu.school.nz